Page 3 - 2015 Florida LambdaRail Brochure
P. 3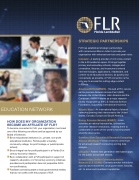 (100G)
AtlanticWave
EDUCATION NETWORK
Strategic PartNerShiPS
FLR has established strategic partnerships
with numerous entities in order to provide your organization with enhanced services and great value:
internet2 - A leading provider of rich online content in the k-20 academic space. I2 brings together primary and secondary schools, colleges and universities, libraries, and museums to extend
new technologies, applications, middleware, and content to all educational sectors, as quickly and connectedly as possible. A FLR connection is the only way to access this cutting edge content
in Florida.
americasPath (amPath) - Housed at FIU, serves as the premiere Network Access Point (NAP) between the United States, Latin America and the Caribbean. AMPATH works as a major research facility recognized by the U.S. National Science Foundation, supporting international e-science.
atlantic wave - An international fabric of shared networks (peering) that interconnects the United States, Canada, Europe and South America.
energy Sciences Network (eSNet) - Links scientists at national laboratories, universities
and other research institutions, enabling them to collaborate on some of the world's most important scientiic discoveries.
Sunshine State education & research computing alliance (SSerca) - Florida university consortium for advanced research computing and big data analysis.
US ignite - Fosters next generation web-based apps for the public and private sectors.
United States Uniied Community Anchor Network (U.S. UcaN) - Connects anchor institutions such as law enforcement, local government, libraries, etc. to advanced broadband capabilities.
how DoeS my orgaNizatioN become aN affiliate of flr?
To become connected to FLR, your organization must meet one of the following conditions and be approved by our Board of Directors:
Be an educational institution (i.e., private, non-proit educational institution, Florida public university, community college, for-proit college, or public/private school);
Be an integral not-for proit participant in a Florida 21st century economy initiative;
Be in collaboration with a FLR participant in support of research, education, or 21st century economy initiatives provided such participation does not jeopardize FLR's non-proit status;
Facilitate connecting state or local governmental entities that do not conlict with the purpose of FLR.